Wakefield Music Services sits within the council and follows and support it's policies for Equality and Diversity, including relevant training and forums. A summary of the action plan can be seen below with the following 5 main objectives:
(1) Demonstrate visible leadership and commitment to EDI across the district
(2) Work with diverse communities to foster good relations, eliminate discrimination and embed equalities in policy and practice
(3) Ensure our services are responsive, accessible and inclusive
(4) Build a skilled and diverse workforce that demonstrates inclusive behaviours and values
(5) Recognise and ensure that EDI is everyone's responsibility
Musical Inclusion Strategy
Wakefield Music Education Hub also undertook a Musical Inclusion Audit in summer 2020 that resulted in a 4 Year Musical Inclusion Strategy. This was led by Dr Phil Mullen PHD who conducted some background research on the Wakefield and surrounding area, its music provision and challenges to and deprivation of children within the region. He also conducted interviews with the hub lead and members of the senior leadership team as well as professionals from within and beyond the hub, including stakeholders who were non-music professionals. Phil added his expertise to the data to produce the document which includes both the strategic priorities and a four-year action plan to achieve them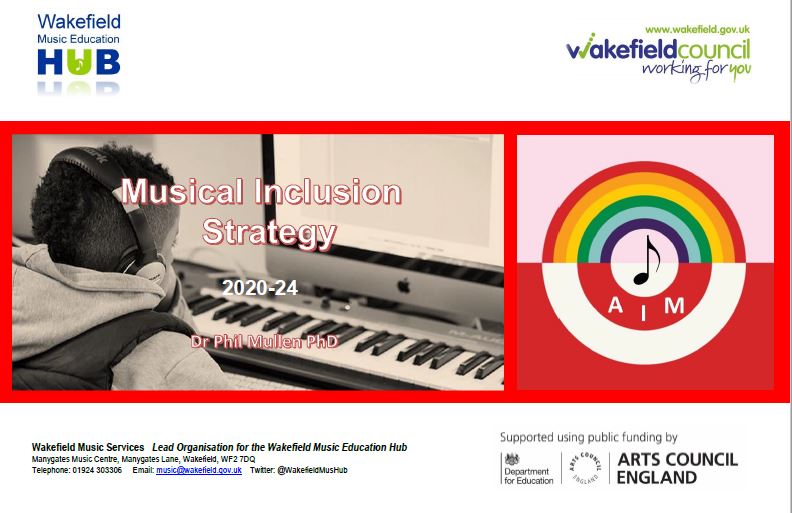 The strategy sets the foundations to build an inclusive music education culture where all children and young people are valued and recognised for their unique qualities, ideas, voices and perspectives and where they can see the Hub as providing a range of diverse and suitable musical opportunities and progression pathways. The Strategy includes a challenging and detailed 4 year plan that is monitored by the Music Hub Board. Updates and progress against various objectives can be found at the end of the document. The strategy is also supported by and feeds into a joint West Yorkshire Music Hub Strategy.
MUSICAL INCLUSION & SEND TEAM
Jackie Craig (Musical Inclusion Strategy Coordinator)
Rachel Chapman
Sarah Collins
Phil Needham
Nick Park (Music ICT Consultant)
Hannah Zelei-Good
WAKEFIELD COUNCIL'S EDI POLICY & ACTION PLAN