WELCOME                                                                       How To Find Us
Here at Outwood Music Centre we run 11 musical groups, of different standards, in a safe and enjoyable environment. The times of each group are listed below. We rehearse every Saturday morning between 9am and 12pm in term time at Outwood Grange Academy. We run two well attended concert sessions a year, one at Christmas and a second in the summer. Some of the groups also take part in other musical events and festivals in wakefield and surrounding areas.
The cost of attending Music Centre and WMS Ensembles is only £40 per term and we always look forward to welcoming new young musicians! Please come and visit us at any time or take part in a free taster session.
Richard Rowe  (Acting Head of Outwood Music Centre) 
Please note that Due to the pandemic all groups are currently online as part of our Virtual Music Centre initially at no cost. Details just below.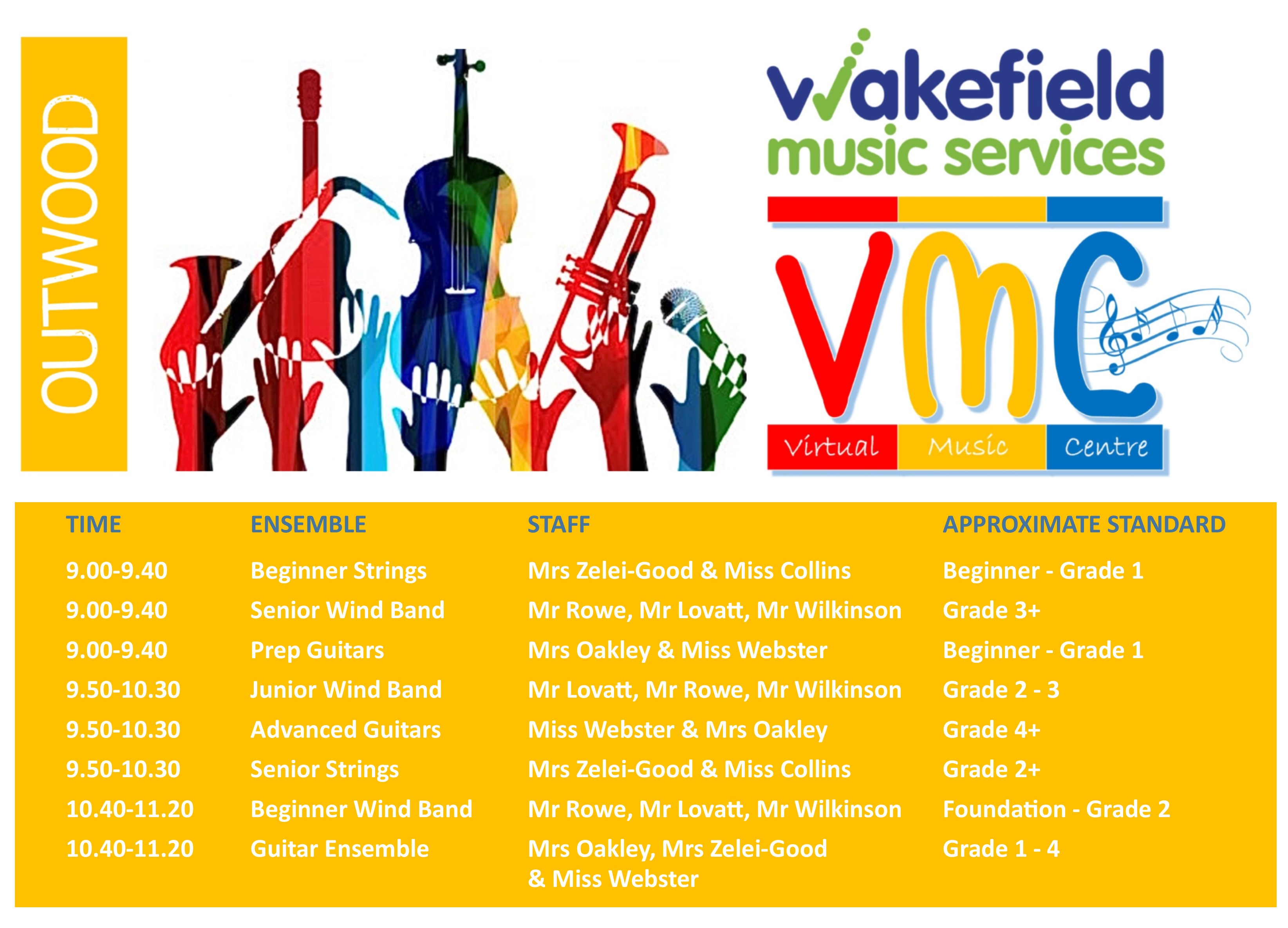 Groups that run from 9.00am
Beginner Strings – Directed by Hannah Zelei-Good
Senior Wind Band – Directed by Richard Rowe
Beginner Guitars  – Directed by Jayne-Anne Webster & Elaine Oakley
Groups that run from 10.00am
Junior Strings  – Directed by Hannah Zelei-Good
Junior Wind Band  – Directed by Richard Rowe & Tom Lovatt
Dixie Band – Directed by Richard Rowe
Guitar Ensemble  – Directed by Jayne-Anne Webster & Elaine Oakley
Groups that run from 11.00am till 11.45am:
Folk Group – Directed by Hannah Zelei-Good
Beginner Wind Band – Directed by Tom Lovatt
Advanced Guitars  – Directed by Jayne -Anne Webster
Sing Outwood!  (Vocal Group) – Directed by Elaine Oakley
For the latest news and updates please visit and 'like' our Facebook Page WMS Outwood MC
Please note that Music Centres only run in term time and not on the first Saturday of a school holiday (except for October half term)